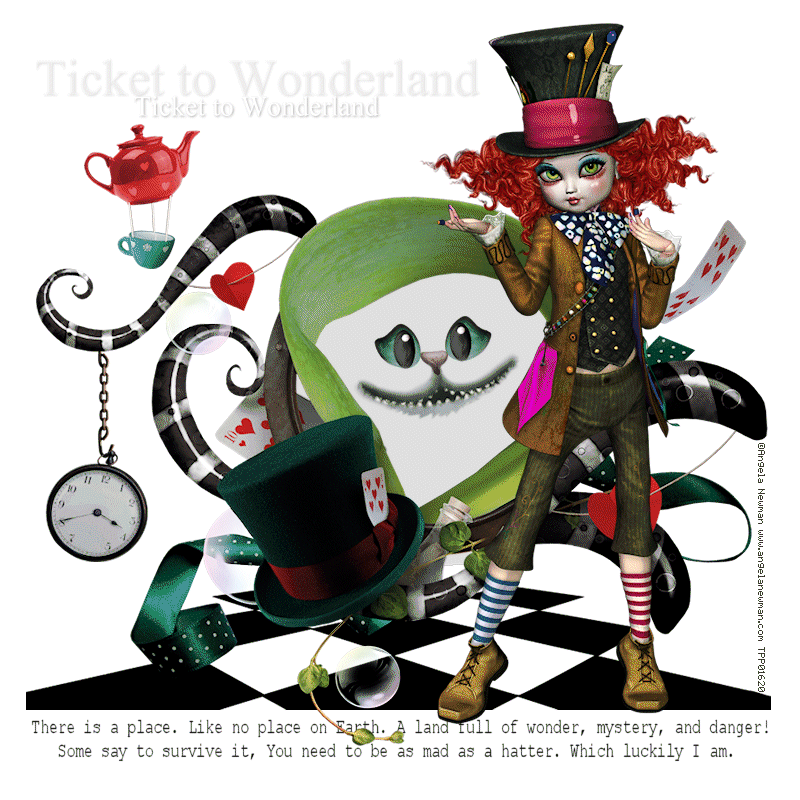 This tutorial was written by me and for those
who have a good working knowledge of psp.
My Text
HERE
Filter
Lokas - Gel Effect
Remember to save often!!!
I used cluster frame 2 and added elements from kit as well
This is totally up to you as there are a lot of kits out there
with the wonderland theme so feel free to use whatever you have or find to create your tag.
Remember mine is just the idea for tag!
Paste cluster and re-size to your liking
Select open area of frame using selection tool
Add new layer and fill with color
Paste tube and move to right of frame opening of cluster
I used teapot and cup,watch and checkered floor
Paste my text
Move to bottom of tag

Add copyright info

Copy Merge and paste into AS
Ctrl L until you have 14 layers

Now open your cheshire cat grin element in AS
Re-size as desired

Go to

Use these settings
Once you have that done you should now have 7 layers
Ctrl A
Ctrl C
Paste after the 7th frame
Hold Ctrl button and click frames 8 - 14
Animation - Reverse frames
Go to your tag and select one frame and copy so you have it in clipboard for later
Ctrl A on cat
Drag to your tag and place inside frame area
Now find the 7th frame and paste the blank tag after
Ctrl A
Frame properties
25
Select just blank frame
Frame properties
100
Back to PSP
Type name and add gel effect
Add drop shadow
Copy
Paste in As
Drag to blank frame
Save