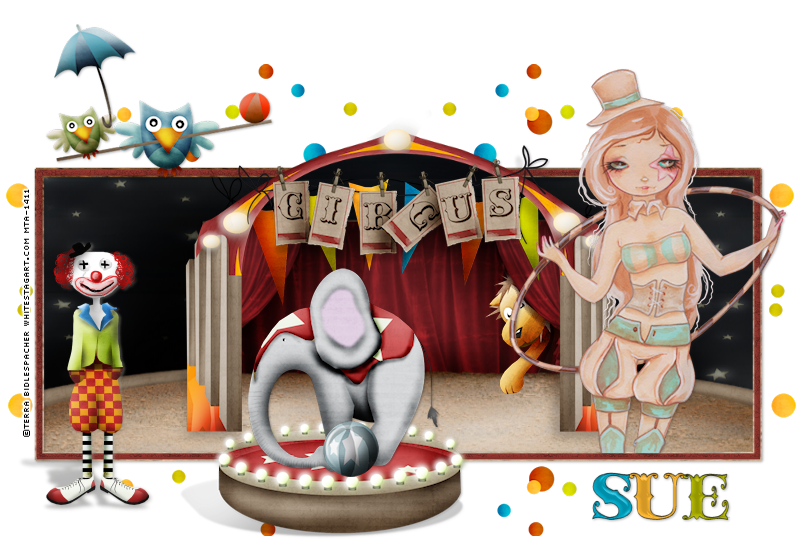 This tutorial was written by me and for those
who have a good working knowledge of psp.
Haven't we at some point in our lives wanted to run away
and join the circus or felt
that our lives were a
circus and we were the juggler?
I know both those
feelings so I created a tag
that
you can run away to a circus for a few minutes
and have a little fun creating your circus
and no juggling required!
Remember to save often!!!

Use my tag as guide if needed.

Open new canvas 800 x 800
Crop before saving tag
All items need to be re-sized as this is not a tagger kit
I re-sized most elements by 20%
But re-size to fit your tag
Crop so you just have tent and a little of the ground
Look at mine and judge for your tag
Using preset shape - rectangle at 6 width
#91332c
Draw out a rectangle to frame your paper
Convert to raster
Duplicate
On top copy float and apply
texture effect - fine leather
Lower opacity of top layer to 55
Select bottom frame layer and float
Expand by 2
Invert
Paste element 14 the ground layer
Delete
Move below other layers
OK so now the base of the tag is done it's time to start adding the elements
Paste element 35 the arch and place over front of tent
Paste element 47 and re-size by 50%
Duplicate
Move both to top one on right and one on left
Merge together
Duplicate and then flip
Merge these two together as well
Move to bottom of tag
Paste element 12 the birds
Move to top left so the one bird is sitting on frame
Paste element 41 the clown
Move him to left with feet outside frame
I added a light drop shadow then a dark drop shadow
to him so his head would show better on bg area
Paste element 23
Move below the arch
Paste element 28 the circus sign
Move above arch
Paste element 7 the stand
Move to middle but more to left
Paste element 15 the elephant
Place on the stand
Paste element 16 the ball and place at end of elephants trunk
Paste element 40 the lion
I mirrored mine and also erased part of him so it looks like he's behind the tent
Paste your tube
Move he so the bottom of her is right at frame line
Add drop shadow to layers of choice
Add name
I changed the color of each letter to go with colors in tag
Add copyright info
Save
Remember to crop before saving.
Hope you have had fun at the circus!!!!