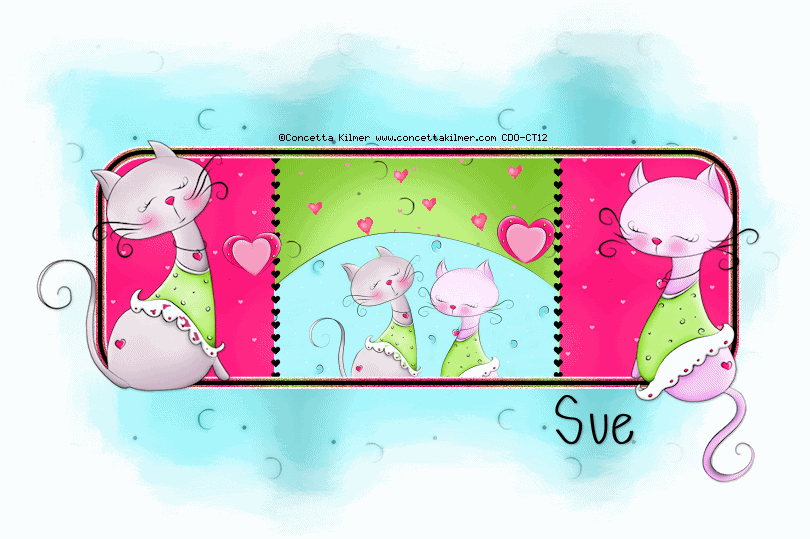 This tutorial was written by me and for those
who have a good working knowledge of psp.
Supplies Needed
Font of choice, I u
sed
Miss Le Gatees
Open my supplies and shift D.
Close original and delete info layer.
Add new layer and fill with white.
Copy the blue paper and paste in psp and use as pattern.
Add new layer and fill with pattern.
Apply mask and merge group.
Move to bottom above white layer.
Select the gray side background and float.
Then invert and paste pink heart paper.
Now select the middle black background and float.
While center background is still selected
paste tube and then delete excess.
Select the grey frame and float then using a gradient of the green
and pink from tag fill a new layer with gradient and apply noise at 25.
I had to separate mine as they come together.
Once you have everything how you like it close
everything except your white, mask, pink and green layers.
Duplicate by holding Ctrl L until you have 23 frames.
Ctrl A and drag to left middle area
Go back to animated hearts and click the back
button and drag to right middle area.
You might need to do this a few times until you have it just right.
Now back to pap and open everything that was
closed and close the layers you had open.
Copy merged and paste into AS.
Ctrl L until at least 23 frames.
Drag and fit this where it goes on your animated part.
Run and make sure everything looks good then save.