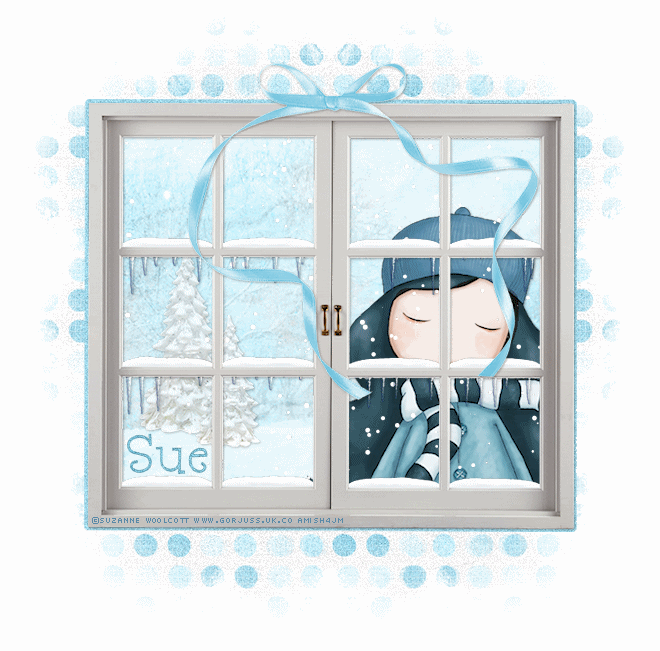 This tutorial was written by me and for those
who have a good working knowledge of psp.
Mask, I used Big Mask 18 by
Vix
Font of choice, I used Happyjamas.
Re-size by 75% with re-size all layers UNchecked
Now you have some room to work with
Using your magic wand tool click outside frame
Using selection tool draw out a rectangle
just bigger than the opening of window
Change blend mode on paper 2 to luminance (L)
Paste tree 2 and re-size and place where you like
Paste bow 2 and place in center top area
Add name and copyright info
Now once you have the tag as you like it, it's time to
Click the layer right below the frame layer
for me that's the tube layer
Now apply snowflakes plug in to each layer
only changing the random seed setting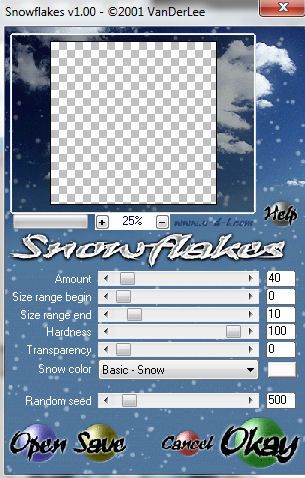 So the first one is set at 500
Then 1000,2000,3000 for other layers
Select background paper and float
Invert
Delete on all 4 layers so snow in only frame size
Close the 1000,2000,3000 layers off and copy merge and paste into AS
Go back to PSP and close the 500 layer and open 1000
Copy merge and paste after current frame in AS
Continue these steps until all 4 layers are pasted in AS.
Shift A and change frame properties to 15
Save as Gif