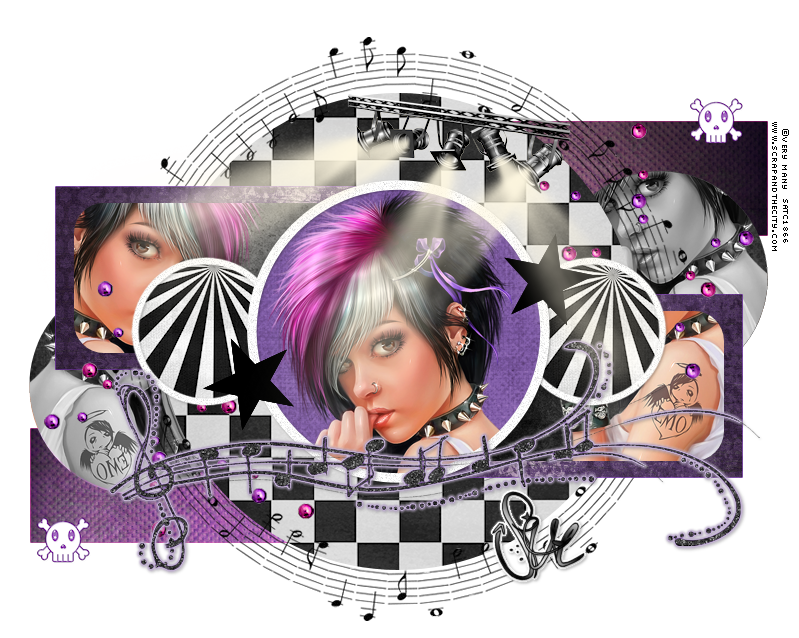 This tutorial was written by me and for those
who have a good working knowledge of psp.
Plugin, I used
EyeCandy - Gradient Glow.
Open template and shift D.
Delete info layer and word art layers.
I re-sized my canvas to 800 x 800
to give me more room and cropped when I was done
but this is totally up to how you like to do it.
There are a few basic steps for this template that are repetitive.
I like to start at bottom layer and go up.
I merged common layers together to make
So instead of doing steps on top rectangle then bottom rectangle
I merged them together and then did steps.
So starting with merged rectangles
For black circles I used tube instead of a paper and changed
blend mode to luminance (L) and omitted step 6.
Next up is large blue circle
Now merge purple layers and for that
Next up are the black layers to merge
and also section of tube.
For small circles i used paper 09.
I added noise at 20 to small frames layer.
I used paper 10 and then pasted
Add same noise to center frame too.
Did nothing to stars layer.
OK that's it for the layers of template.
The elements I used were...
Please refer to my tag for placement or just place however you like.
Skull 01
- I re-sized and duplicated.
Music Note 1
- I added a gradient glow to this
of purple then white so it showed up more.
Beads 01 -
I re-sized and duplicated these.
I used gradient of black and white.
Then applied gradient glow of white.