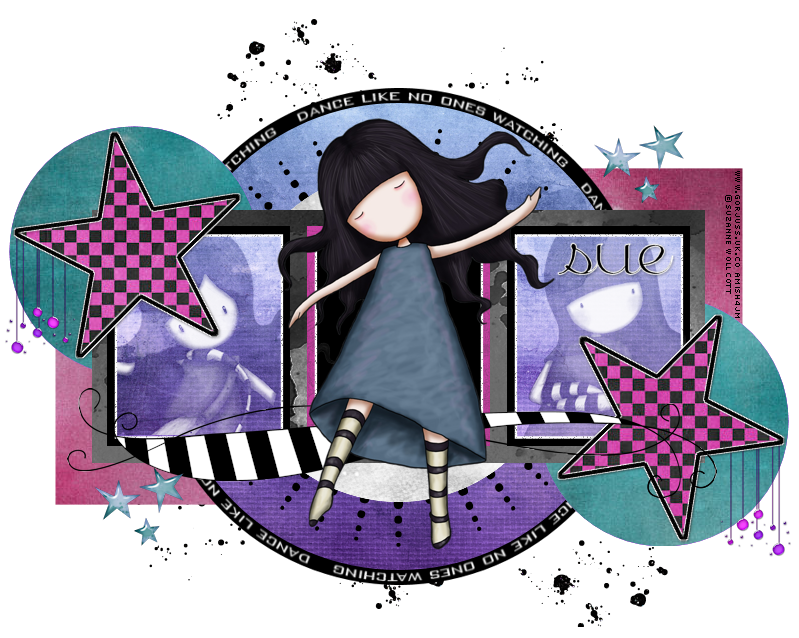 This tutorial was written by me and for those
who have a good working knowledge of psp.
Open template and shift D.
I re-sized my canvas to 800 x 800
to give me more room and cropped when I was done
but this is totally up to how you like to do it.

There are a few basic steps for this template that are repetitive.
We are going to start at bottom layer of template and work our way up.
Use my tag as a guide if needed.
I merged common layers together to make
So instead of doing bottom squares separately
I merged them together and then do steps.
This just saves you a step so feel free to do as you please.
Here is what I did with each layer.
Purple Squares - Paper 10
Black Circle - Text
by
using preset shape draw out a circle about the same size
and then select the text tool and add text on a curve. When you see the A with a half circle you can begin typing.
Close the circle layer in your layers pallet before converting to raster.
Light Purple Circles
(merge both together)
- Paper 09
Blue Rectangle - Paper 08
Black and Pink Squares - Just change pink square to match tube.
Pink and Black Squares - Paper 02 except middle leave black.
Paste tubes of choice and move below the top duplicated paper.
Colorize tubes by S-0, H-0
Change blend mode to screen.
Bottom Star - Steps 1 and 2 but then fill new layer with
black and then expand by 1 and fill new layer with white then move white below the black.
So now that all the layers are done start adding elements of choice.
Once you have elements how you like them add your name.