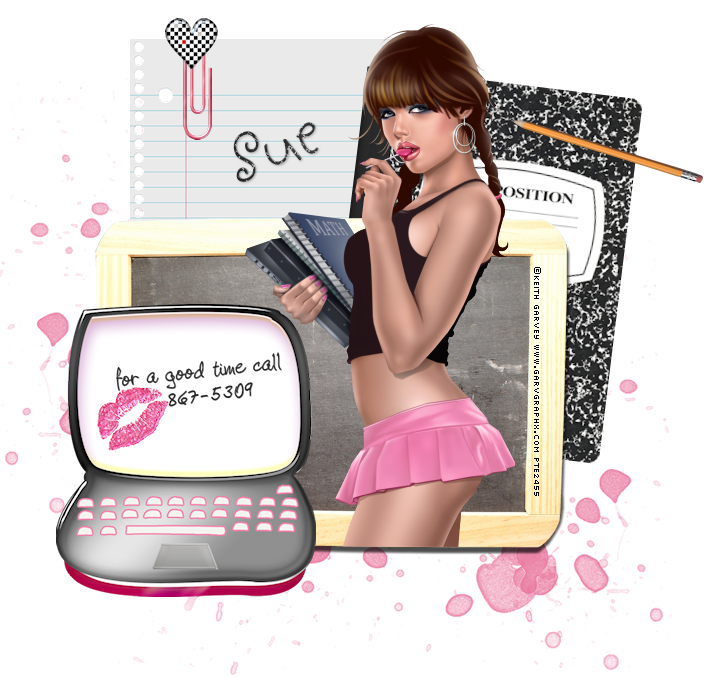 This tutorial was written by me and for those
who have a good working knowledge of psp.
Tube of choice, I used artwork by ©Keith Garvey.
My tube is from PTE but starting 9-1-12
you can find his tubes on his site
Font of choice, I used
Scrap Twiggy
.
Open new canvas 800 x 700.
I re-size a lot of the elements by 65% or so.
Use my tag as a guide as we go.
Paste notebook paper and move to left top area.
Paste book 01 rotate by 7 right and move this to top right area.
Paste pencil rotate 90 degrees left and place on top of book.
Paste paperclip and move to paper area.
Paste heart 02 and move to just above paperclip
so looks like it's the top of the paper clip.
Paste chalkboard and move to bottom more to left side.
Paste laptop and place bottom left.
Paste word art 02 and place on the screen part of laptop.
Paste print 01 and move to top area and
duplicate and flip - mirror and merge both together
and re-size and move to bottom of layers.
Paste tube and place her like mine and crop
anything that's over the blackboard.