This tutorial was written by me and for those
who have a good working knowledge of psp.
Font of choice, I used
Scrap Mommy.
Optional plug-in,
Penta - color dots
Xero - fritillary
Pattern, I made.
Texture, comes with pspx3.
Template, I used Witchy Temp by Sarah's Tags N Things
Let's Begin!
Open template and shift D.
Delete top 3 layers.
Follow these basic steps for each layer of this tag.
1. Select layer
2. Float
3. Add new layer
4. Fill with color
5. Select none
6. Add filter of choice
7. Close original layer
My Fritillary Settings
My Scanline Settings
My Color Dot Settings
For the texture fill with color then choose a darker shade of that color
and then apply texture.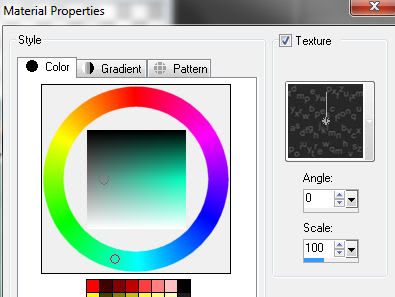 Add name.
Add drop shadow to layers.
Add copy right info.
save.