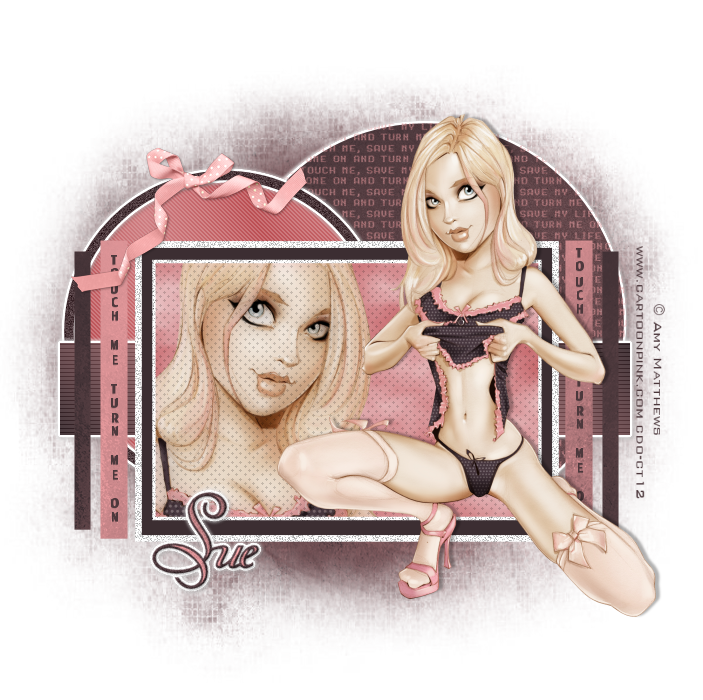 This tutorial was written by me and for those
who have a good working knowledge of psp.
Supplies Needed

Mask, I used one called grungi 10, but not sure where I got it so just use one of your choice..
Optional Plug-ins, Eye Candy - Gradient Glow
PhotoEffex - Scanlines
Let's Begin!
Open template and shift D.
Select large circle on right.
Float this and add new layer and fill with color of choice.
Keep selected and add new layer and using another color as texture fill layer.
Type text of choice out in lighter color and center in canvas.
Apply MM - copies set to tile gap 1or 2.
Select circle again and float then invert and hit delete on text layer.
Add gradient glow 5,50,100,white to circle layer.
Select pink square and colorize to match tube. I used H-254 S-120.
Colorize the left circle as well.
Select the frame of the circle and float then add new layer and fill with another color from tube if desired. Add noise at 20. Add gradient glow same as before.
Select stripped layer and float it then add new layer and fill with color of choice or colorize this layer if you would like.
Select rectangle in back and same steps as before filling with color.
Apply scanlines plugin if desired.
Select rectangles on sides and do same steps using color then adding new layer and filling with texture like above.
Add text if desired using
Select pick rectangle in middle and float then invert and paste close up of tube.
Add main tube and place where you like.
Add bow, I resized mine by 10% and colorized using same as before.
Add name. For mine I applied inner bevel and then noise at 10 and then added gradient glow and then a drop shadow.
Add drop shadow to layers of choice.
That's It!