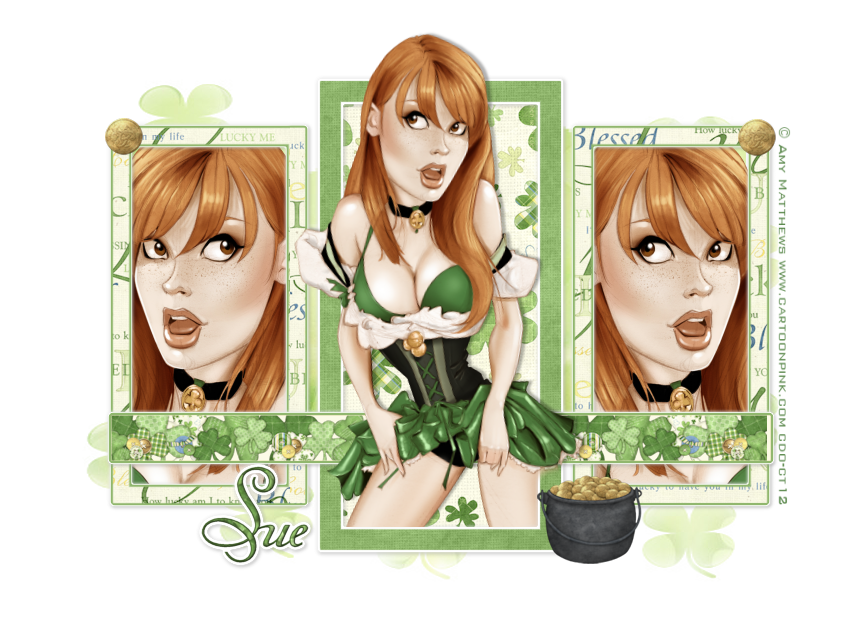 This tutorial was written by me and for those
who have a good working knowledge of psp.
Supplies Needed

Scrapkit
, this is PTU from NitWit called
Bit O' Blarney but any St. Pat's kit would work for this
.
Optional Plug-ins, Eye Candy - Gradient Glow
Let's Begin!
Open template and shift D.
Using selections tool draw rectangle bigger than opening of frames.
Add new layer and fill with color or paper. For my outer rectangles I used #c5e18c and for middle rectangle I used paper called clover pattern.
Select frame and float then invert and paste paper and hit delete. You will need to resize papers and do this for all three rectangles. I used paper called lucky words for outer and paper called clover for middle.
Add gradient glow set at 5,50,100,white to all frame layers you made. Close original frame layers.
Select rectangle and float then invert and paste border and resize and place how you like it. I resized mine small and duplicated it to fit length as I wanted all the detail to show.
Hit delete on border once you have it how you like it.
Keep selection and invert it back and flood fill new layer with color and then add gradient glow after deselected. I used color #f7f6e2.
Select the frame backgrounds you made and float then invert and paste your tube and hit delete.
For outer rectangles I used close up and for middle I rotated to right a little and duplicated tube and moved one below frame layer and one above and cropped tube so it looked as if it was coming out of frame.
Paste paper of choice and move to bottom above white bg. Apply mask. I used a texture for mine instead of paper.
Add drop shadows to your layers.
Add any other elements from kit. I used pot of gold and gold coin.
Add name. I used section of border as a pattern set as background and #415f2c set as foreground stroke width 1. Added light inner bevel and then gradient glow and drop shadow.