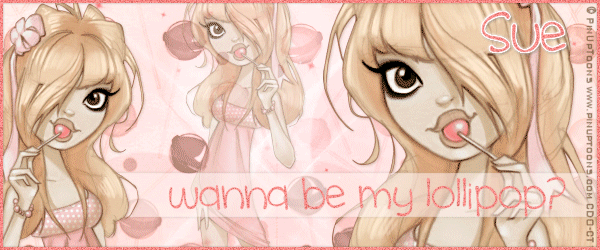 This tutorial was written by me and for those
who have a good working knowledge of psp.
Supplies Needed

Optional Plugin, I used Eye Candy - Gradient Glow.
Animation - I used one from Simone you can find download HERE.
Open new image size 600 x 250.
Add new layer flood fill with darker color from tube and Ctrl A.
Contract by 3 and hit delete. Add noise at 20.
Select white layer and add new layer flood fill with lollipop pattern I supplied.
Add new layer and flood fill with texture08 then change blend mode to overlay.
Paste your tube, the one I used had three different sizes. I lowered opacity of the smallest one I used in middle to 60 and kept others at 100. I also mirrored the medium size one.
Select preset shape tool - rectangle and close foreground off and background set to white draw out a rectangle at bottom. Look at my tag for reference if needed.
Lower opacity to 55. Add drop shadow to this and any other layers you want.
Type out any saying you would like. Add noise and drop shadow.
Add name and apply noise then gradient glow and then drop shadow.
Okay now to add animation if you choose to do so.
Open animation up in AS. Ctrl A and Ctrl C.
Paste into PSP and colorize to match your tube. I used H - 0 S - 228.
Ctrl Y each layer. Go to Image and canvas size and change size to 600 x 250.
Save as pspimage and open into AS and Ctrl A.
Back to PSP and close all exect your texture, lollipop and white bg layers - copy merged.
Paste into AS and Ctrl L until you have 22 frames.
Select and drag animation to tag.
Back to PSP and close out layers you have open and open those that are closed then copy merge and paste into AS.
Ctrl L until you have 22 frames and drag to fit on tag.