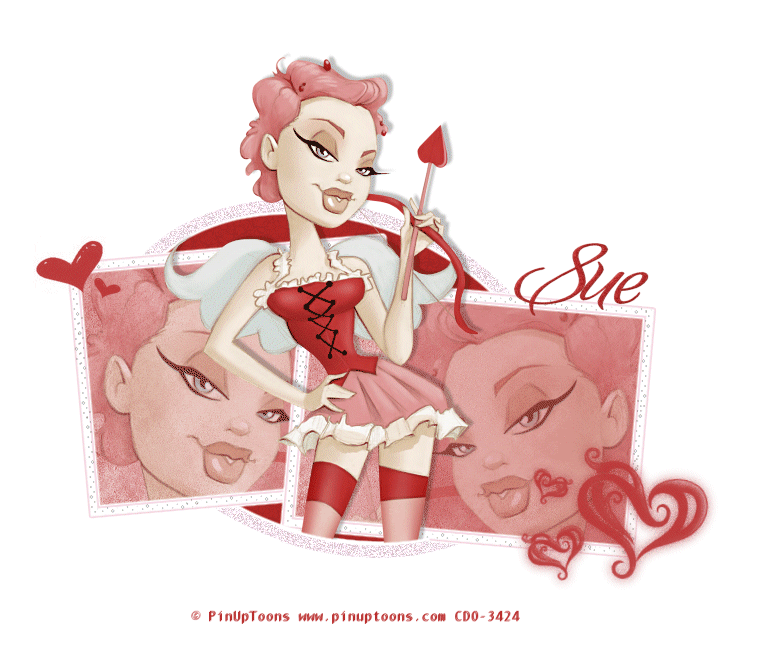 This tutorial was written by me and for those
who have a good working knowledge of psp.
Supplies Needed

Tube of choice, I couldn't resist the new cupid tube by ©PinUpToons at CDO.
Font of choice, I used
Kozmetica Script.
My Supplies - heart animation supplied is from the Love Shack with permission - she does great animations so be sure to take a look over there you won't be disappointed.
Open template and shift D. Close original.
Delete info layer and resize canvas larger so you have room to work.
Select / Float oval background and then add new layer and flood fill with color of choice. I added texture - fine leather to mine.
For the square backgrounds and the hearts I colorized them using hue 255 and saturation 134.
Select square layer and float then using a darker color of choice with texture checked flood a new layer.
Keeping selected invert and paste larger tube layer and hit delete. Now do same for other square but mirror tube.
Lower opacity of tube layer to 40 - 50 whatever you like.
Paste tube and duplicate. Move one below the oval frame and keep one on top.
Crop the top layer at the legs.
Add drop shadow to layers.
Add name. I gave my name a little noise at about 20.
Save as png or continue on to animate.
To animate close all the layers above the square frame.
Copy merge and paste into Animation Shop (AS)
Duplicate by holding Ctrl L until you get 10 frames.
Open animation I supplied and Ctrl A. You will need to rotate animation left 3 and right 3 and also rotate 90 + 3 right and left as well. Once you rotate left 3 do all the areas that are that angle by dragging to frame on tag and then hit back button on animation so they are all highlighted again and repeat until all frame is animated. Then do right 3 or just mirror the left 3 frames - up to you how you do it as long as animation is at angle that fits frame. Then repeat until frame is animated and then hit the go back on your animation and then rotate 90 left or right then rotate 3 as well. Once all frame area is animated go back to psp and close all you have open and open what you have closed. Copy merge and paste into AS and Ctrl L so you have 10 frames and drag to your tag.
I hope I explained this to where you can get the idea of what you need to do.
Another versions below using the heart animation I supplied. Same steps except close frames off before coping to AS. And place animation a few times on left then mirror and place a few times on right.