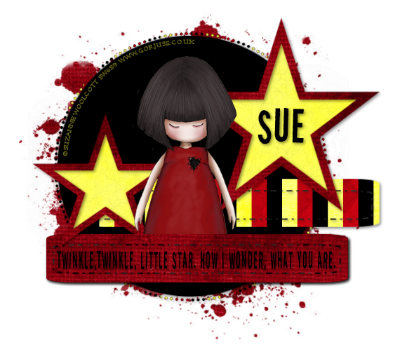 This tutorial is written for those that
have a working knowledge of PSP.
You will need...
Tube of choice, I used artwork by Suzanne Woolcott
and you can purchase her work
HERE
.
Template #9 from Lacarolita's blog
You can get it
HERE
.
Mask you can download
HERE
.
I used a FTU Scrap kit called Technocolor from Scrappy Bit of Fun
and you can get it
HERE
Font I used was 2Peas Tasklist and it's a PTU so I can't supply it,sorry.
Okay, here we go...
Remember to save often!!!
Open template and shift D and close original.
Go to image / canvas size / 700 x 700
Copy and Paste a paper of your choice and apply mask.
On Circle Layer go to selections
select / float / invert
Copy and Paste paper of choice and hit delete.
You do this for all layers of the template and paste desired paper.
Add Twinkle Twinkle text or whatever you like.
Add Tube of choice and postion where you like.
If you postion like I did then select rectangle layer and float and hit delete on tube layer
so that it looks like it's behind rectangle.
Add Copyright
I applied on a curve, if you aren't familiar with this technique,
here is how to do it...
On tool bar select eclipse tool and make a circle equal to the circle layer
then go to text and on edge of circle you will see a curved A, type out copyright
and make sure you get it where you want it, then go to layers pallet and where the plus sign
is on the layer, click it to show you both layers,
and then close off (by clicking the eye) circle layer and then convert to raster layer.
Add Name.
Add a drop shadow of choice to your layers.
Save as desired.
Hope you enjoyed my tutorial.