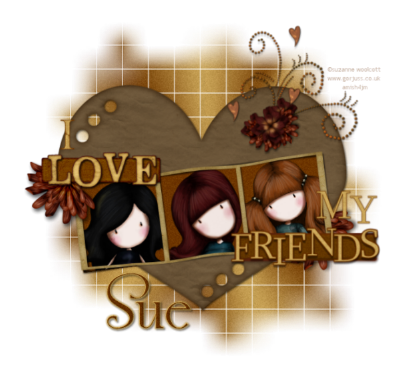 This tutorial is written for those that
have a working knowledge of PSP.
You will need...
Tubes of choice, I used artwork by Suzanne Woolcott
and you can purchase her work
HERE
.
Nicole Young's (FTU) Embellishments
called Lovey Dovey
You can get it
HERE
at DSP.
You need to register, but it's free and well worth it
with all the freebies they have.
Mask is WSL_Mask84
You can get that
HERE
.
I created my own patterns and have include those
along with the extra added words for you
HERE
.
Font I used is one of my favorites, Snooty Fox NF
Get it
HERE
.
EyeCandy 4000 - Gradient Glow
Okay, here we go...
Remember to save often!!!
Open all supplies and minimize them.
Maximize Element 1 and Shift D and close out original.
Resize to your liking.
Go to Layers and make cansize 700 x 700
Add New Raster Layer and flood fill with White and send to bottom.
In Material Properties click on background and under pattern
find the one named bg pattern and flood fill
a New Raster Layer then apply mask.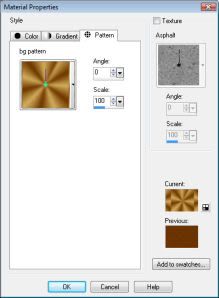 Go to Layers and Merge group.
Make sure you have this layer beneth the heart layer but above the white.
Select the selection tool and go around the open area on the heart layer.
On a New Raster Layer flood fill with the dark pattern I supplied.
Keep Selected
Drop below heart layer.
Add Tubes of your choice and resize to your liking.
Hit Delete.
Select None.
Add Element 3 and resize and place where you like it.
Add Words I supplied or make your own or leave as is LOL totally up to you.
Add Copy Right
Add Name using pattern I supplied or one of your choice.
Convert to Raster Layer and then use Gradient Glow
with these settings....
Add a drop shadow of choice to your layers.
Save as desired.
Now that wasn't so bad, was it?
Hope you had fun.