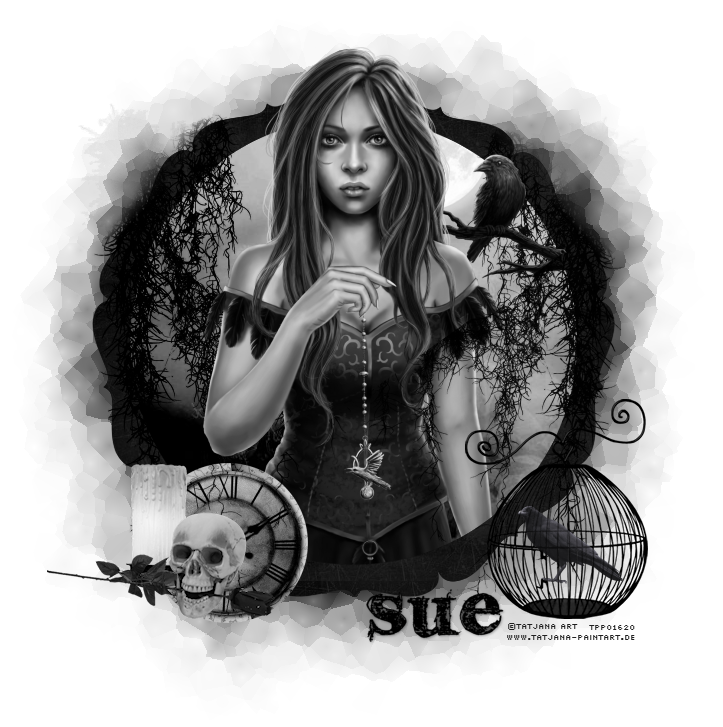 This tutorial was written by me and for those
who have a good working knowledge of psp.
Artwork by
©Tatjana Art at TPP
If you don't have or don't want to purchace this kit there are free cluster frames on Kristy's blog using this kit
Won't be exactly like mine but general idea is same :)

Filters
Remember to save often!!!
Open new canvas 800 x 800
Crop at the end
Paste paper 1
Apply mask
Merge group
Paste frame 5
Click inside frame using magic wand
Expand by 5
Invert
Paste paper 7
Delete
Paste tube
Duplicate
Delete on bottom tube
Select none
Crop bottom part of tube
Select frame layer
Float
Invert
Paste paper 1
Delete
Select none
Add texture to this layer
Close original frame layer
Now add elements from kit you wish to use
I Used
cage
crow
clock
small skull
candle
moss
Use my tag as a guide for placement if needed
Add name
Add copyright info
Go to Image - Greyscale
Crop & Save