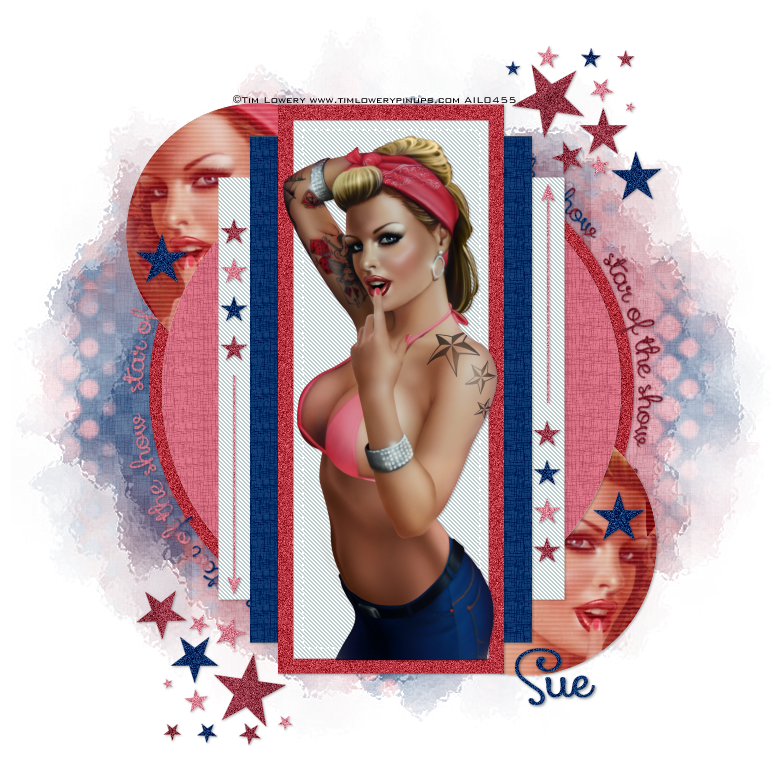 This tutorial was written by me and for those
who have a good working knowledge of psp.
Mask
Filters Unlimited - paper textures
Remember to save often!!!
Open template and delete info layer
Go to bottom layer and fill with white
Add new layer
Fill with gradient of choice and any texture or filter desired
Apply mask
Merge group
4. Fill with pattern or texture
5. Apply filter of choice
6. Close original layer
We are going to start at the bottom layer (in layers pallet)
and work our way up the template following the steps above.
I moved the middle stars layer out some so they weren't behind my tube
I typed my own text to match my name so this is up to you
If you want to change it just type text on curve in color of choice
black circle -
#b53541
Noise at 30
grey circles - #670000
FU - striped
Paste tube and change to screen mode
pink circle - #de778a
FU - papyrus
white square - #bec9c9
Penta - Jeans
Arrow and All Stars - color of choice
Noise at 30
black rectangle - #0a336a
FU - papyrus
pink rectangle -
#b53541
Noise at 30
black rectangle -
#bec9c9
Penta - Jeans
Paste tube and place in middle and a-line with bottom of jean layer
Add Name
Noise at 30
Add Copyright info
Close white bg layer
Crop & Save