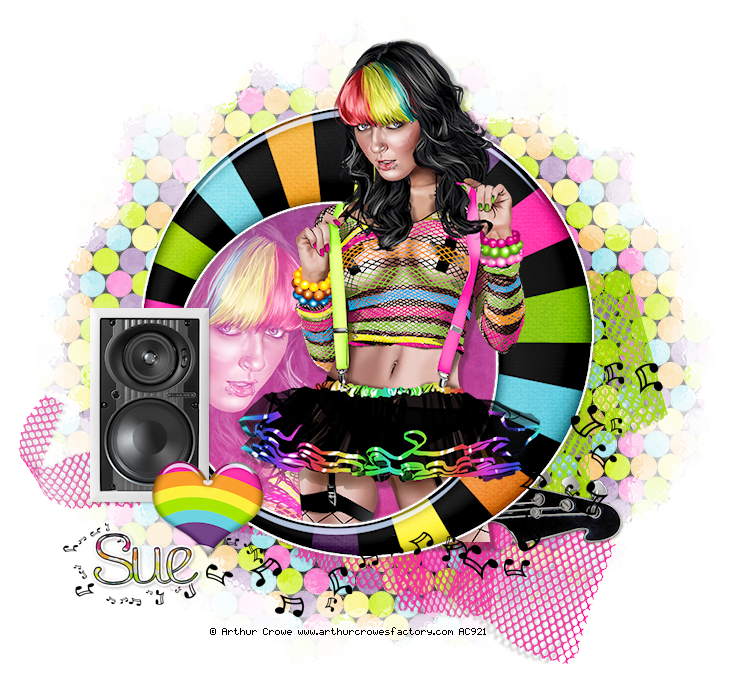 This tutorial was written by me and for those
who have a good working knowledge of psp.
Font of choice, I used
Pepita Script
Let's Begin!
Open frame 1
Re-size by 75
All layers UN-checked
Paste paper 5
Apply mask
Merge group
Move below frame
Click inside frame using magic wand and expand by 15
Invert
Paste paper 6
Delete
Keep selected and paste close up tube
Move to left area
Delete
Paste main tube
Duplicate after you have it where you want it
Delete on bottom tube
Select none
On top tube erase bottom area of tube
On close up tube layer change blend mode to screen
Use my tag as guide if needed for placement of elements
Paste fishnets 1 and 2
Move below frame and background layers
Paste speaker and move to left area
Paste music scatter and move to bottom area above frame
Paste guitar handle and move it to right below frame
Paste any other elements of choice
Add drop shadow to layers of choice
I applied a gradient glow to frame and my name
and gel to my name as well
I used paper 1 for my name with black foreground set at 1.
Add copyright info
Save