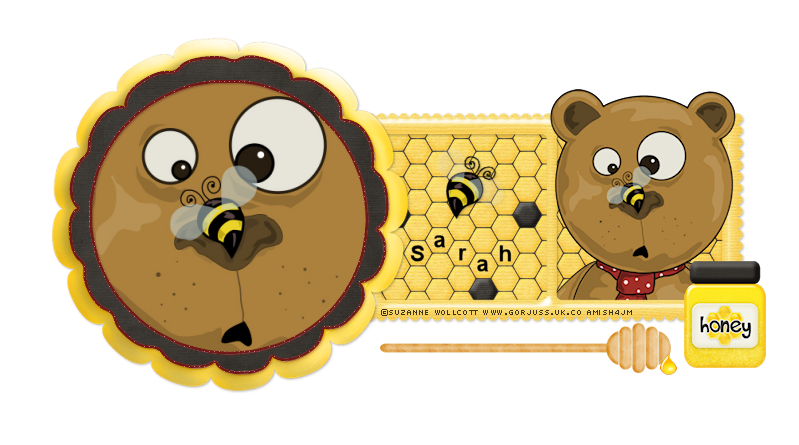 This tutorial was written by me and for those
who have a good working knowledge of psp.
Font of choice, I used
Arial
.
Plugin, I used Penta - color dots.
Refer to my tag along the way.
Paste frame 1 and move to center but more to right.
Paste frame 3 and move to the left of frame 1.
Using magic wand select the white part of frame 3.
Add new layer and fill with color.
Then I applied the filter penta - color dots with distance of 5.
Move this layer under the other layer we made.
Using magic wand click inside the circle part of frame 3.
Paste large tube and hit delete.
Using magic wand select inside the squares on frame 1.
Paste smaller tube and place inside the right square of frame 1.
Duplicate and move one above frame and one below frame.
Erase bottom part of the top copy.
Paste the bee tube if using same as me.
Paste any other elements of choice from scrap kit.
I thought the name looked nice in the honeycomb
so type name out and apply.
Go to layers pallet and click the plus sign.
Then right click name and select convert text to curves then as character shapes.
Now click the plus sign by name.
Now you should see each letter of your name as single.
Just click each letter and move where you
like it making sure text tool is still highlighted.
Add drop shadow to layers.
Add copyright info.
Save.