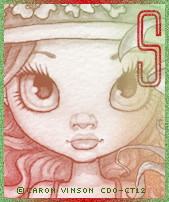 This tutorial was written by me and for those
who have a good working knowledge of psp.
Supplies Needed
Let's Begin!
Open new canvas 600 x 250.
In foreground and background select two colors and make gradient.
Paste your tube and duplicate so you have 3.
Place them however you like.
Using eraser tool - either set to fuzz soft or just lower the opacity to 10.
On the right and left tubes just run the eraser over the edge in middle.
This helps the tubes to look blended.
Once you have that done colorize tube layer
S 0, H0
Add new layer and flood fill with same gradient.
Change blend mode to screen.
Add new layer flood fill with gradient then
float and modify - contract by 4 and hit delete.
Add drop shadow and make sure this layer is on top.
Add name.
I stretched my name to fit the length and height of tag.
Same steps for avatar just smaller.
Add copyright info.