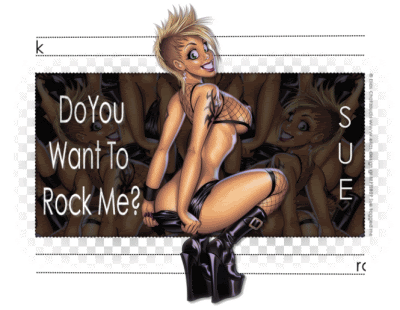 This tutorial is written for those that
have a working knowledge of PSP.
You will need...
Tube of choice, I used artwork by Elias Chatzoudis
and you can purchase his work
HERE
.
Don't use same tube unless you purchase it.
Template and Animations are by Me.
You can get it
HERE
.
Plug-ins used were
Mura's Meister - Copies
AAA Filters - Granularity
(optional)
Xero - Porcelain
(optional)
Font
Century Gothic
Okay, open up your template and shift D, then close original
delete my info layer
Colorize mask layer if you want this a different color than mine.
Paste your Tube
Duplicate and Hide Copy
On original tube layer
Plugins / Effects / Mura's Meisters - Copies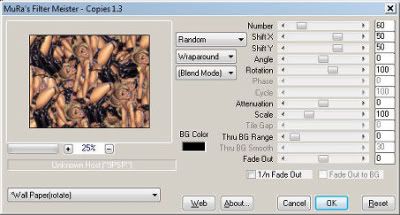 Select Black Rectangle Layer
Select All
Float
Invert
On Copies Layer Hit Delete.
Xero - Porcelain
Default Settings
Lower Opacity
AAA Filters - Granularity
Default Settings
Unhide Tube Layer
Apply Xero - Porcelain
Hide layer again
Add Copyright
Add Name
Add Drop Shadow to Layers.
Edit -Copy Merged
(make sure your tube layer is still hidden)
Go To Animation Shop
Paste Layer
Hit Ctrl L untill you have 20 layers total
Open wordart and animation I supplied.
On Wordart Ctrl A and drag to where you want it.
Next go to Animation
Ctrl A and place this on the right lower area between the two lines.
Back to Animation and hit Undo
Go to Animation at top and Select Reverse Frames
Drag Animation to the top left area between those two lines.
Go Back to PSP
Copy Tube Layer
Paste in Animation Shop
Ctrl L untill you have 20 layers
Ctrl A
Drag to center of tag.
Save.
~~~~~~~~~~~~~~~~~~
How to make Rocker Chick Animations
~~~~~~~~~~~~~~~~~~
For the Slider "Rocker Chick"
Open New Canvas 650 x 250
Type Text you want to use
Position it on the checkered bg
so it's straight.
Move it all the way over to the right and only have part
of the first letter showing
Duplicate and Move this layer Left just a bit
and make sure it's still straight lined up.
Continue this until you are all the way across the Canvas
and only the last letter is showing.
Save as a psp image and open in Animation Shop
That's it!
~~~~~~~~~~~~~~~~~~
For Wordart Animation
Type out text you want and add drop shadow.
Copy and Paste into Animation Shop
Effects - Insert Image Effects
Underwater
Customize
Play around with it untill you like your results.
That's it!