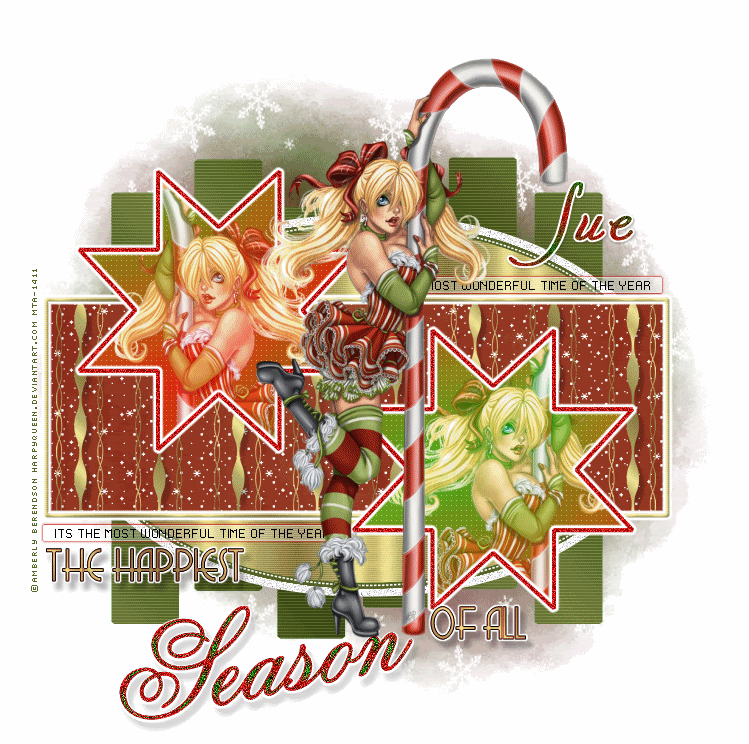 This tutorial was written by me and for those
who have a good working knowledge of psp.
Font, I used
Nadine Script Normal
.
Open template and shift D.
Close original
Delete info layer
Re-size canvas to 700 x 700
Use my tag as a guide if needed
I moved my text around so if you want to do the
same lock each layer together in your layers pallet.
This way you can move without having to move all 3 layers for each set of words.
I like to start at bottom of template and go up.
Click on the background layer and un-hide it.
Add new layer and fill with color choice.
I used a gradient of green and red from tube.
Apply mask and merge group.
There are a few basic steps for this template that are repetitive.
5. Apply filter of choice or texture
Green Bars - I used
#576729 for fill and applied
RR-Scanlines using #cdc072 color with space and thickness both at 2
Raster 3 (the green oval frame) - I used same color as above for fill.
Red rectangle - I used animated bg I made and will show you later on how to do same
Star backs - I used same gradient as mask and moved layer below original and changed blend on original to luminance (L) and color dots with distance of 5
While still selected paste tubes
Duplicate original star backs layer and move above tube and change blend to screen
Add name - I used gradient and then added noise at 30
Once done select / float and expand by 2
Fill new layer with white and move below name layer and merge down
Once you have tag done close everything above the red rectangle layer
Copy merge and paste into AS
Ctrl L until there are 10 frames
Open my animated bg and Ctrl A
Drag to your tag and place over the red rectangle.
View this to make sure it works up to this point if it's looks fine go back to PSP
and open everything above red rectangle back up and close from red rectangle all the way down
Paste into AS and Ctrl L until you have at least 10 frames