This tutorial was written by me and for those
who have a good working knowledge of psp.
Font of choice, I used
LDJ Jilly Nilly
.
Plugins, I used Xenofex 1 - Baked Earth (scaly skin)
Xenofex 2 - Classic Mosaic
Eye Candy 5 Nature - Smoke
or use mine if you don't have this plugin.
Animation Shop
Open template and shift D.
We are going to work our way up from the bottom.
Select brown oval and float then add new layer and fill with color of choice.
Apply Texture Effect - Fine Leather.
Select blue rectangle and same steps as last
layer if you want to change color or leave as I did and apply
Richard Rosenman - Scanlines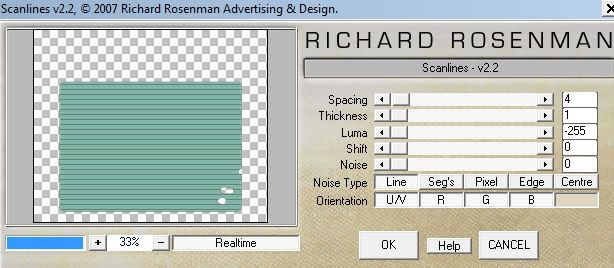 Now onward and upward to green square.
Same steps again to change color.
I used
#796650.
Apply
Xenofex 1 - Baked Earth (scaly skin)
Now to the beige circle layer.
I kept this color but same steps if you want to change it.
Apply
Xenofex 2 - Classic Mosaic
For brown square I applied Fine Leather same settings as before.
For small blue square I floated layer and added
new layer and used
#5d788c as a texture.
Did the same texture for the killed and 3 as well.
Select small green circle and float then invert.
Paste large tube mirrored and hit delete.
Paste tube and place where you like it.
Add name.
Add copyright info.
Now to animate bullet holes you need to select inside the holes.
Apply EC5 Smoke with these settings
Apply and select none copy merge and paste into AS.
Go back to psp and hit back arrow.
Apply again but change random seed.
Do steps until you have 3 layers in AS.
Select A an change frame properties to 50.
Save and that's it!